After 21 years at ASI in Grinnell, Lynnville resident Jeff Arment left his day job as a senior project manager to pursue a growing dream. In April of this year, Arment opened his new barbecue business, Lynnville's Smokin' J's, which is run out of his commercial food trailer.
Arment, whose father was intrigued with smoking meats, has always loved to cook and began to explore the idea two years ago. Last year, the pitmaster and his friend Todd Kaldenberg entered the local barbecue competition, "Smoke on the Water," and won first place in the poultry division for their pulled chicken.
To prepare for his April 2016 launch, Arment spent the better part of the winter researching, studying, and taking tests on food safety and regulations in order to become state certified. Although it was a rigorous and in-depth process, Arment was pleased to hear the state inspector say his trailer was "one of the better setups" the inspector had seen.
Lynnville's Smokin' J's is aptly named, as Arment is proud of his Lynnville roots and base, and the J's represent him and his wife, Jodi. Jeff's family also includes his two children: Katie, 21, and Colten, 17. Jodi and Colten also help Arment with his business.
"Jodi is definitely my right-hand woman," Arment said. "She works as an accountant in Des Moines as well, so she is very helpful with the numbers side of the operation."
Arment offers barbecue meats including, but not limited to, pulled pork and chicken, smoked pork loin, turkey, brisket, salmon, ham, ribs, and burnt ends. The recipes are Arment's own, and he also crafts all his own rubs, marinades, and barbecue sauces. The pitmaster is proud to use all Iowa-raised meats.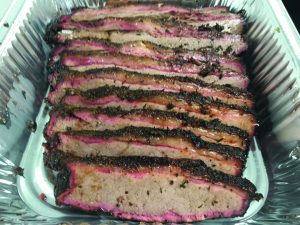 "I smoke the meats low and slow," Arment said of his process. "I cut my own wood, including cherry, apple, and hickory, which gives the meat a distinct, authentic smoked flavor."
In addition to his smoked meats, Arment also offers delectable sides, including smoked mac 'n' cheese, green beans with bacon, cheesy potatoes, corn casserole, and smoked baked beans. The barbecue business is set up to both cater events and to serve from the trailer.
Arment has been overwhelmed by the initial public response, as he's catered graduation parties, auctions, weddings, and company lunches, among other venues.
"I cannot believe the support we have received," Arment said. "With our trailer and seven smokers, no job is too big or too small."
Recently, Arment was humbled by the support he received on a cause that is near and dear to his heart. Daughter Katie is autistic, and on Saturday, Apr. 30, Arment held a barbecue benefit at the Lynnville Friends Church parking lot to support autism research. Although it rained, customers poured in and appreciated Arment's delivery to their vehicles so they could stay dry.
"Y'all DID it!!!!" wrote a very grateful Arment on his business Facebook page. "It is with great pleasure to tell all of you that came out last weekend to support our fund-raiser for Katie's Krusaders, that we have pushed her fundraising effort over the goal of $3,000 for the year. It really makes this dad proud for the support of Katie, as well as for Lynnville's Smokin' J's. God bless each and everyone of you."
So far, Facebook and word of mouth have been the best source of advertising for Arment, who invites readers to check out his business on the social media site. Arment uses his Facebook page to post upcoming events, give shout-outs to customers, and let the public know which meats he has available that week.
Although Arment's business is just getting fired up, he doesn't rule out the possibility of expansion down the road, should the customer demand be there.
"We are here to stay and to provide the best smoked food and sides to the public," Arment said. "That is a promise."