The Hometown Press is a newspaper and print shop located on the square in Sully, Iowa. Our news crosses the lines of Jasper, Mahaska, Marion, and Poweshiek Counties. Inside our weekly paper, you'll find community news, sports coverage, feature articles, school news, local classifieds and ads, business and city updates, a cooking column, and much, much more!
We love to receive news tips or story ideas! Please fill out the form below:
Hometown Press staff members:
Faye Brand, publisher, fbrand@colinemfg.com
For all news inquiries, please email press@netins.net.
Jessica Maston, graphic designer, and sports, jessicamaston@netins.net
LeAnn Hjelmeland, writer/designer, leannhtp@netins.net
Advertising and Accounting, adshometownpress@netins.net
For sharing Google Drive files, please email hometownpressia@gmail.com
Office phone: 641-594-3200
Fax: 641-594-3243
Hours: Monday-Friday 8 a.m.-5 p.m.
Ad deadline: Mondays at 5 p.m.
News deadline: Tuesdays at 10 a.m.
301 7th Ave., Suite 101
PO Box 243
Sully, IA 50251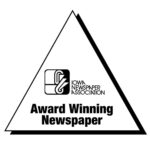 The Hometown Press has won 28 awards in the seven years it has been eligible to enter the Iowa Better Newspaper Contests. The awards are listed below:
2020 - Second place award: Best Series
2020 - Third place award: Best Use of Graphics
2019 - Third place award: Best Headline Writing
2018 - Second place award: Best Use of Graphics
2018 – Third place award: Best Ad Featuring Miscellaneous
2017 - Second place award: Best Front Page
2017 - Third place award: Best Newspaper Website
2016 - Second place awards: Best Newspaper Website
2015 - First place awards: Best Ad Featuring Financial, Insurance, or Other Professional Service; Best Newspaper Website; Best Feature Page; Best Sports Feature
2015 - Second place awards: General Excellence; Best Ad Featuring Financial, Insurance, or Other Professional Service
2015 - Third place awards: Best of Weekly Class 1 Advertising; Best Ad Featuring Grocery, Food, or Entertainment; Best Sports Feature; Best Newspaper Marketing; Best Use of Graphics
2014 - First place awards: Best Ad Idea for a Community Promotion or Event; Best Sports Section
2014 - Second place awards: Best Ad Featuring Miscellaneous; Best Feature Page
2014 - Third place award: Best Ad Featuring Grocery, Food, or Entertainment
2013 - First place awards: Best of Class Advertising; Best Ad Featuring Grocery, Food, or Entertainment; Best Feature Page; Best Use of Graphics
2013 - Third place award: Best Sports Story