We've caught up with Bryce Fopma, who grew up on the family farm near Searsboro. Now living in Sioux Falls, SD, Fopma is enjoying retirement after 48 years in education.
Tell us about your Lynnville-Sully roots
I am the firstborn child of Bernie and Theda Fopma, I was born on a bitterly cold January morning in 1950 and began my life in a rural home near Kellogg. A short time later, my dad and mom moved to the Terpstra farm southwest of Searsboro. Located at the bottom of a hill on a dead-end road, this place became the site of my early boyhood adventures with our dog, Puppy (not too imaginative with names back then). I started my schooling at Searsboro Public where two teachers, Mrs. Watson and Mrs. Brignon, introduced me to Dick and Jane and the world of numbers. It was in this large, brick building that I met Terry Lowry, who became my best friend and whose wit still makes me laugh as we share our non-educational world of retirement today.
When I was in second or third grade, our family moved to another Terpstra farm south of Grinnell. It is there where my parents and my five siblings, Alvin, Bonnie, Carla, Stan, and Nancy, spent numerous summers tossing hay bales, pulling cockleburs out of soybean fields, and helping out with numerous farmyard chores. It was also where neighbor boys, Clen and Charles Lincoln, joined us for Saturdays playing softball in the pasture, propelling croquet balls over Highway 146, and destroying the financial well-being of each other in a game of Monopoly.
I attended Sully Christian School through eighth grade and then moved to Lynnville-Sully School during my high school days. Let's just say I regret today many of my sins of youth, and many of my classmates could probably list a number of those wayward moments still today. It is certainly by the grace of God that I survived all those miles in my black 1964 Ford Galaxy 500 mindlessly circling the Sully square on Sunday evenings and speeding down the road between Lynnville and Sully trying to make it home by midnight curfew.
It was in one of my high school English classes that we had a poetry project. I still have the booklet today with examples of onomatopoeia, limericks, and an essay about our favorite poet. I chose Robert Frost, who once ended a poem with these words, "Two roads diverged in a yellow wood and I took the one less traveled by and that has made all the difference." I have often considered the roads God has steered me safely on during and after high school.
Where did life take you after graduating from L-S?
After graduating from Lynnville-Sully in 1968, God steered me down the road that led to Dordt College in Sioux Center. It was there that I took a path called English education. It was definitely a different field than farm life, but I believe my dad saw how I lacked any skill for maintaining machinery and taking care of livestock and advised an alternative path.
At Dordt, I met my future wife, Phyllis, who was also an English major. Despite the limited teaching jobs in 1972, we were grateful to be offered jobs at Edgerton Christian in Edgerton, MN. We stayed in this community until 1990 when our family moved to our present location, Sioux Falls, SD. For 48 years, I have taught language arts to middle school students until my retirement in May.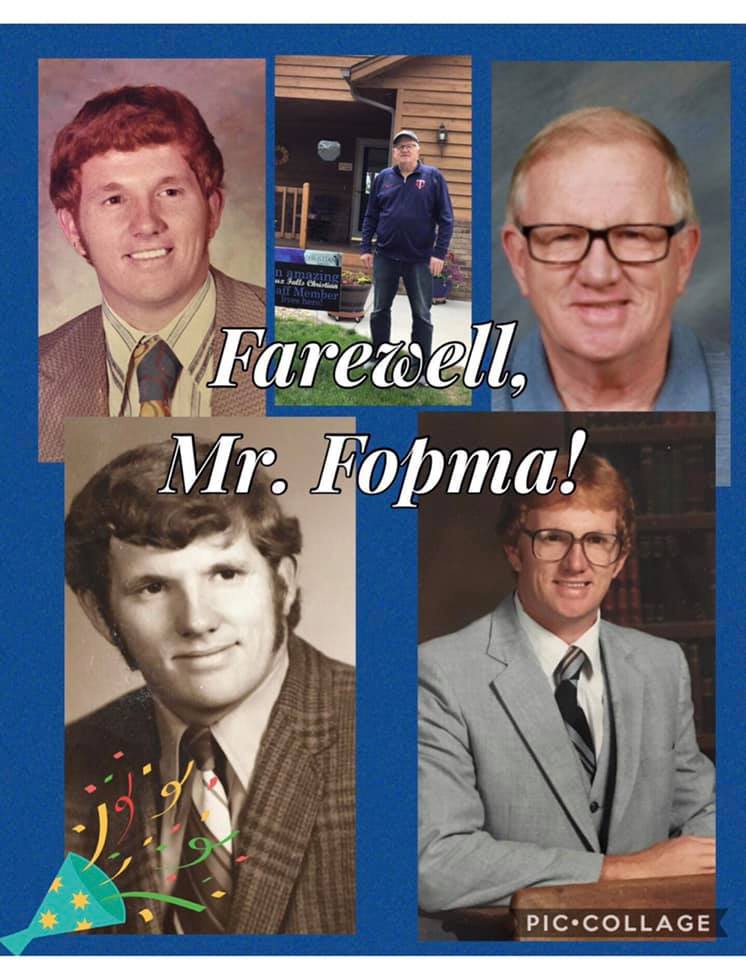 Why did you choose this career?
Was it your dream as a kid? When I was at Sully Christian, my Aunt Sylvia was one of my teachers. I enjoyed watching her correct spelling tests. I thought putting those red check marks on assignments looked like fun. Yes, I've spilled much red ink during my years of teaching, but that certainly isn't what I have enjoyed about teaching. I enjoyed getting to know hundreds of students throughout the years – primarily through their written prose and poetry.
What is the best part of your job?
The best part of my job has been discovering the gifts of my students. Also, I love to write and read poetry. I have found that poetry allows students to voice their passions, dreams, disappointments, etc. By the way, one of my assignments in the high school poetry booklet was to write a poem. I wrote about the Vietnam War. Reading now what I had written, I would raise the white flag of poetic defeat. It was an offbeat attempt to force rhymes about a war about which I really knew little.
What is the worse part or your job?
The worst part of teaching was perhaps being unable to motivate some students and the hours of responding to papers.
If you were in any other career, what would it be?
I can't think of any other career I would have chosen.
What are some of your fond L-S memories?
Looking back, I had many excellent teachers. Also, I enjoyed the friendship of Terry Lowry who brought many smiles as we journeyed through four years together. In addition, my cousin Dwight Beyer was in my geometry class. Without him as a classmate, I would have failed miserably. Angles and hypotheses and numbers have never been my strong points.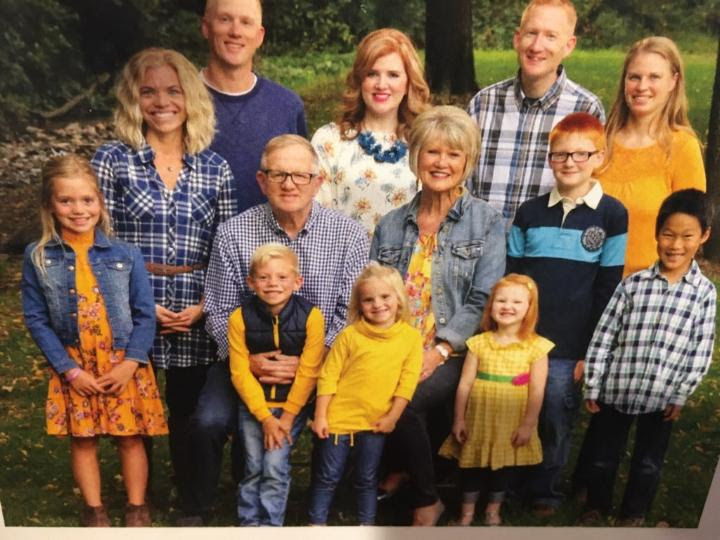 Tell us about your family.
My wife and I have three children: Brady, who works as a website developer; Blaine, who is a mortgage lender; and Bethany, who is a hospice social worker. My wife was in education for 39 years in Edgerton, MN, and Sioux Falls, SD.
What are your hobbies outside of work?
I enjoy the challenges of New York Times crossword puzzles and house painting in the summer with a fellow teacher, Mike Schouten.
Anything else that would make this feature story great?
As I mentioned earlier, God has guided me down many roads in my 70 years upon this earth. There have been many people who have impacted my life and who have inspired and encouraged me along the way. From the small town of Searsboro where I sat in a barber shop as a small boy, to Sully where I sat many hours in classrooms, to Sioux Falls where I now clean out my files of 48 years of teaching language arts, God has been good. My wife and I continue to trust in Him in the roads ahead.
Sixteen By Bryce Fopma
I have written several poems about my younger days growing up on the farm and also some of my teenage experiences. Here is a poem I wrote about my first car.
Black leather interior
smelled sweeter
than any Iowa summer night;
that '64 Ford Galaxy 500
was sleek and well-polished
wearing my smile
as I inspected it in our garage
that first night.
I was sixteen
and asphalt and gravel roads beckoned me
four-barrel carburetor,
353-cubic-inch engine
dual exhaust
and a free tank of gas
from the farm barrel.
With window down
I headed to Sully
while grasshoppers scattered and foxtail in ditches
bent in homage to my new toy.
That Sunday evening
I joined my peers
mindlessly looping the town square
taunting the town cop
and rocking to the tunes of KIOA.
The morning sermon at the CRC
About making gods of the stuff of the world
was lost in the blur of tail lights,
the squeal of wheels,
the glint of unblemished chrome.
the fumes of freedom fueled my soul.
That was fifty-four years ago--
and looking through life's rearview mirror
I now see a blur of time,
hear the squeal of life passing much too quickly,
see the rust of the stuff of life
and I say,
"Forgive me, Lord."
I Am By Bryce Fopma
I would often share this poem with my students and have them write their own "I Am" poems. I wanted my students to understand how so many people and experiences impact their lives.
I am Mr. Fopma.
I am Christ's child.
I was the firstborn of Bernie and Theda--when cold stares of "What? Red hair?" blew through my world.
I am my Grandma Fopma's restlessness and my Grandpa Fopma's fiery ways—so says my patient mother.
I am a dead-end road near Searsboro, Iowa, where a lively dog named Puppy barked at my bare heels and my very own model Super M Farmall tractor plowed every spring in my sandbox.
I am a cold brick building on a hill in Searsboro where the warmth of Mrs. Watson and Mrs. Brignon, my first teachers, made one plus one equal fun and whose room echoed with laughter and rainbows and kindness.
I am chicken pox scarring my elementary perfect attendance record.
I am my best friend Terry Lowry whose wit taught me the importance of laughter.
I am four hundred acres south of Grinnell where the horizons were forever green, where blistering summers found me with crimson neck craned beside a tractor steering wheel, where oats smelled golden sweet, and I felt strong lifting straw bales seven high.
I am siblings, Alvin, Bonnie, Carla, Stan, and Nancy, who somehow survived physically and emotionally with me in our three-bedroom home.
I am Hawkeye running back Larry Ferguson who ran across the turf of my mind in fifth grade while my staticky radio sat in the bleachers of my upstairs bedroom.
I am a very lonely thirteen-year-old when our dog Puppy lay limp on Highway 146 at 10:07 p.m. and no Iowa winter compared to the chill of that evening.
I am bullheads in our farm pond and pasture softball games where seven Guernsey cows cheered us on.
I am croquet games with the neighbor boys, Clen and Charles, with mallets being splintered and wickets bent in our efforts to be the champion.
I am forever wishing to be young, forever wishing to walk shoulder to blue shoulder with my dad across our farmyard.
I am crossword puzzles and Minnesota Twins and Hardy Boy conquests.
I am Sully Christian Grade School and Lynnville-Sully Public High.
I am Dordt College and trains that whistled of home.
Ich bin in Deutsche Klasse viere Jahre, but I prefer English.
I am sappy poetry penned during World Literature lectures and 2:00 a.m. speeches offered to classroom shadows.
I am Pizza Ranch broasted chicken and laughter served up with my wife, Phyl, as we watch America's Funniest Home Videos.
I am a Maltese dog named Toby who nuzzled into the lives of our three children several years ago (despite my protests against ever buying a dog) and now Macey whose white-furred puppyhood energizes our home.
I am the death of my father whose blue-eyed faith knew horizons beyond green cornfields. I am the life of my Heavenly Father who will never leave me in the fields that lay before me.
I am three married children and seven grandchildren who often turn our driveway into a battleground of plastic swords, broken branches, empty cap guns, and spilled tears.
I am Edgerton Christian Junior High in Minnesota for 18 years and Sioux Falls Christian for thirty years—yes, a teacher, but more so a pupil learning daily from my students and the Master Teacher, Jesus Christ.
I am something called coronavirus which taught me that education is done best in a classroom.
Yes, I am now retired, but I will never tire of the classroom memories of 48 years.
I am Mr. Fopma.
And, I am and will always be Christ's child.