By LeAnn Hjelmeland
From automotive shop to barber shop, Jonny Rankin of rural Reasnor has made quite the switch in workplaces over the past year. After years of doing vehicle service work, Rankin is now serving people in his new line of work as a barber's apprentice at Groom Barber Lounge in Pella.
The change in careers comes from a change in heart for Rankin over the past few years. After some ups and downs on his life journey, he's grateful and thrilled to be living his dream on his way to becoming a barber.
Growing up, Rankin lived on an acreage seven miles west of Sully on the edge of the Lynnville-Sully School District, a couple miles east of Reasnor. He attended Lynnville-Sully, graduating in 2003, and then set out to enter the automotive industry. Rankin went to Wyotech in Laramie, WY, to earn his associate degree in automotive technology with management in 2004.
Upon graduation, Rankin made his way back to Iowa, where he was hired at the Volkswagen dealership in Des Moines. A year later, he married his high school prom date, Shelly, and they lived in different parts of Des Moines for six years.
In 2011, the two returned to their roots by moving to Sully, and Rankin opened a motorcycle shop on the side with Derrick Zimmerman. Sully Speed Co. was located where 641Apparel is currently. Rankin continued to work in Des Moines during the day. In 2013, the Rankins' daughter, Charlotte, was born, and in 2014, Rankin chose to take a step back from working on motorcycles. He purchased the house he grew up in from his mother, and the Rankins moved to their current home in the country.
Their son, Harvey, was soon born, and Rankin continued to work on Volkswagens until 2016.
"Volkswagen got in trouble with the EPA, and it affected my business in a negative way," he said. "I left the dealership and worked at Peace Tree Brewing Company in Knoxville for 15 months and was then invited back to the dealership."
In 2017, Rankin achieved the status of Volkswagen Master Technician and was promoted to shop foreman. Despite the professional success, Rankin experienced some personal trials.
"Like most people, I had some personal battles," Rankin said, "and in 2019, my life spiraled out of control in a downward direction until I forcefully hit rock bottom. When Jesus picked me up and put me on my feet, I started looking for ways to get out of the automotive industry."
As he considered what second career path to follow, Rankin knew he wanted to make a real difference in this world.
"I had been given a second chance at life, and I had a new desire to stop living for myself," he explained.
After two years of waiting on the Lord, Rankin was at Groom Barber Lounge one night for a beard trim, and Scott, the owner, men-tioned to him he was looking for an apprentice. Rankin expressed his interest in the role.
"I had thought on several occasions that it would be cool to be a barber," Rankin said. "I trusted my gut and took a leap of faith. Days later, I was unemployed, and after a month, I started my journey as a full-time barber's apprentice at Groom Barber Lounge."
The year 2022 is the first year where apprenticeship is possible for becoming a barber. It is a 2,400-hour apprenticeship, and Rankin is about halfway there. He will need to take tests to become a licensed barber when his hours are met.
Though he has always had an artistic side, Rankin admitted that cutting hair was a "struggle" at first. "Holding scissors, clippers, and combs was just awkward at first," he recalled. "Touching people was awkward. Washing guys' hair was awkward. Scott told me to imagine I am washing their feet, as Jesus did with the disciples."
That analogy helped, and Rankin explained how the whole journey to becoming a barber has been one of selflessness. "I've gone from being fiercely independent and working alone and for myself to now serving hundreds of clients and working as a team with Scott and Drew. This new reality was a dream and is now an answered prayer. Many, many prayers."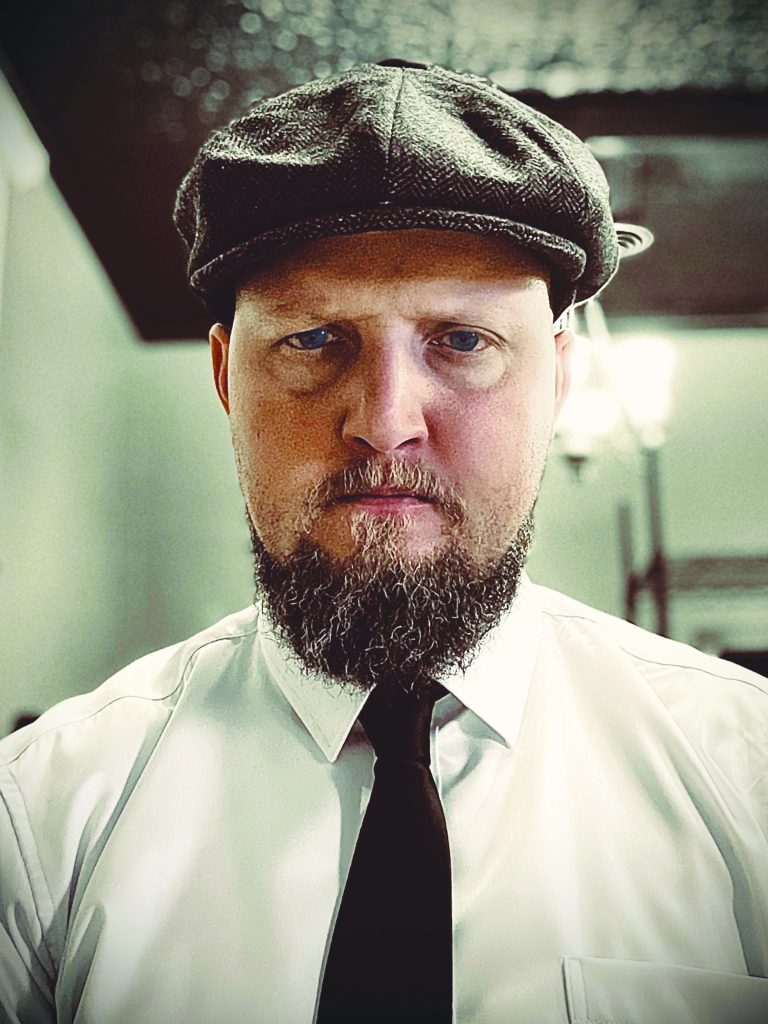 Looking ahead, Rankin plans to continue on his path of becoming a barber. He wants to master the trade and "to serve as many men and boys as possible" at Groom Barber Lounge.
"I have no intentions of leaving Groom, ever. If you ever step foot in Groom, you will know why. It's an amazing building, for starters. It's located in a bank from the early 1900s just south of the Pella square. Scott has done an incredible job of creating an atmosphere that can't be beat."
When men go to Groom Barber Lounge, they are in for more than just a haircut; they are in for an experience. "Masculine smells, music, a pool table, pinball, arcade, you name it," Rankin said. "And, for the record, it's also a darn good haircut."
The barber shop offers other services as well, including hot lather face shaves, beard trims, beard conditioning, and even The Groom Experience, which is catered toward wedding parties.
Rankin is ready to serve new clients in his new career path, and he is confident his clients will love Groom Barber Lounge just as he does.
"If you are a guy, book an appointment. It will be your first of many," he said.