Lynnville-Sully's Bob Scandridge, high school industrial arts teacher and activities director, was honored with the Professional Educators of Iowa (PEI) Educator of the Year award during a special assembly on Monday afternoon, May 13. The assembly took the veteran teacher by surprise, who had no idea what the special assembly was about or that he was about to be bestowed with one of the highest awards in his profession. Scandridge has been a teacher for 33 years, having served the Lynnville-Sully school district for the past 31 years. During his tenure, he has worn many hats as a teacher, coach, activities director, and so much more.
PEI's executive director, Jodie Nation, presented the award on behalf of the organization. PEI is a statewide, nonprofit education association that consists of educators who strive to create a learning environment that nurtures to fulfill the potential of all students and acts with conscientious effort to exemplify the highest ethical standards toward students, practices and performance, professional colleagues, and parents and the community. The award honors educators who are exemplary role models of professionalism.
As part of the award presentation, Nation read excerpts from letters of recommendation written by students, parents, and coworkers before officially revealing the recipient.
 One student described Scandridge as a great leader, stating "he never told me what I was doing wrong. Instead, he worked alongside me and guided me through each problem I had. He always makes time to get to know students, and he leads by example." A parent from the community wrote, "he represents all of the Pillars of Character at our school and community." An excerpt from a coworker's letter described Scandridge as outstanding, well respected, caring, and a dedicated educator who always puts students first. "He understands culture is about building relationships," wrote the coworker.
A common theme in the recommendation letters was the veteran teacher's commitment to Lynnville-Sully students and the community for over 30 years, inside the classroom and out as he has been a supportive fixture at nearly every extra-curricular event at L-S. Nation then announced Scandridge as the 2019 PEI Educator of the Year and presented him with a $500 check. Scandridge was overcome with emotion when he accepted the award in front of the entire student body and L-S staff, and even more so when members of his family surprised him with their attendance at the assembly held in his honor.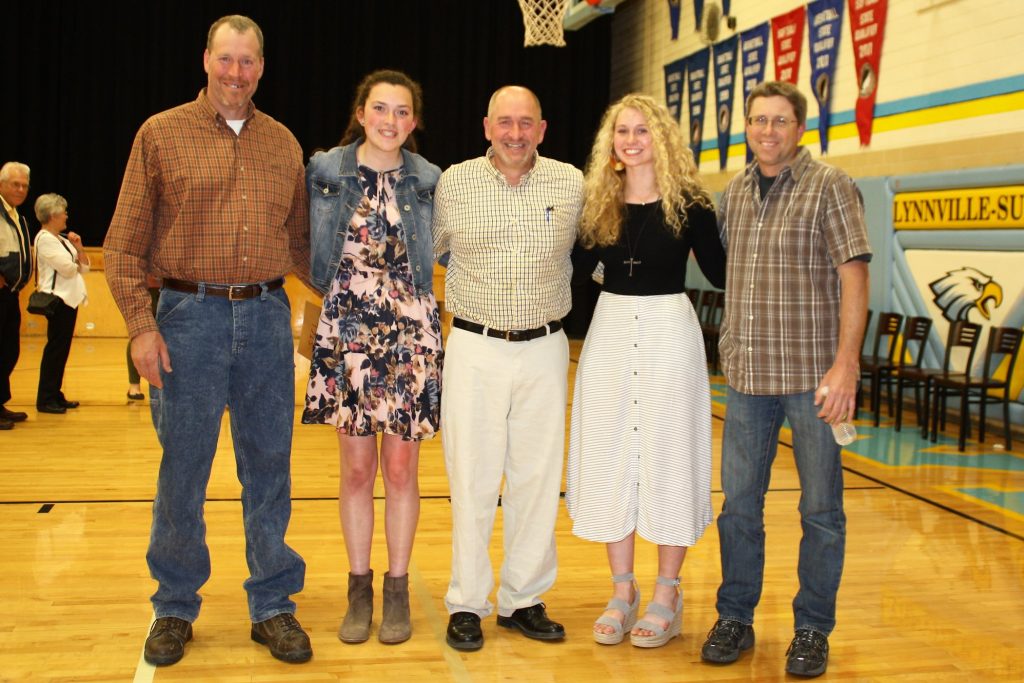 "It was really special that my family was there to celebrate with my Lynnville-Sully family," said Scandridge.
Scandridge thanked everyone in attendance who has been part of that Lynnville-Sully family for over three decades. Scandridge admitted when he first took the position at L-S 31 years ago, he had no idea he would stay a Hawk for so long. Now, as he prepares to retire from L-S and take on another position at Pella Christian High School, Scandridge emphasized that Lynnville-Sully will always be his home and family.
"L-S has been my home for 31 years. I couldn't ask for greater students, a greater community, greater co-workers, and administration. It's been a fantastic run. Lynnville-Sully will always and forever be my family," said an emotional Scandridge when addressing the crowd.
Scandridge started at L-S in 1988 as the industrial arts teacher. In his 31 years as a Hawk, he has served as the head football coach for 19 years, assistant football coach for four years, head baseball coach for 10 years, assistant high school wrestling coach for 12 years, and head junior high wrestling coach for 11 years. For the past 15 years, he has also served as the school's activity director in addition to his teaching duties. His 31-year tenure at L-S has given him the opportunity to teach a second generation of students whose parents were once in his classroom or part of a team he coached. Scandridge is married to Diana, who taught K-12 art at L-S for a number of years, and they have three children who have all graduated from Lynnville-Sully – Payton, Cooper, and Hailey.
"The last 33 years in education have helped shape me into who I am today, and I am truly blessed to have been at Lynnville-Sully for the last 31 years," said Scandridge. "I am very honored and humbled to receive this award. This award is shared with the students and staff at L-S."
PEI is no stranger to Lynnville-Sully and has recognized several staff members for their excellence within the education field over the years. In 2013, Michelle Squires was awarded the PEI Associate of the Year award. Squires now serves as the elementary and middle school secretary. In 2015, PEI was back to present Jeff Corbett, middle school math teacher, with the PEI Professional Educator of the Year honor.